Overview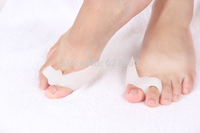 Bunion is a prominence of the medial portion of the head of the 1st metatarsal bone. The cause is often variations in position of the 1st metatarsal bone or great toe, such as lateral angulation of the great toe (hallux valgus). Secondary osteoarthritis and spur formation are common. Symptoms may include pain and redness, bursitis medial to the joint, and mild synovitis. Diagnosis is usually clinical. Treatment is usually a shoe with a wide toe box, protective pads, and orthotics. For bursitis or synovitis, corticosteroid injection may be helpful.

Causes
Bunions tend to run in families, although it is the faulty foot mechanics that lead to bunions that are inherited, not the bunions themselves. Some authorities, in fact, suggest that the most significant factor in bunion formation is the poor foot mechanics passed down through families. However, the American Orthopaedic Foot and Ankle Society estimates that women have bunions nine times more often than men, that 88 percent of women in the United States wear shoes that are too small, and that 55 percent of women have bunions. Again, this reflects the wearing of shoes with tight, pointed toes, or with high heels that shift all of your body's weight onto your toes and also jam your toes into your shoes' toe boxes. It should be noted that it generally takes years of continued stress on the toes for bunions to develop.

Symptoms
Red, thickened skin along the inside edge of the big toe. A bony bump at this site. Pain over the joint, which pressure from shoes makes worse. Big toe turned toward the other toes and may cross over the second toe.

Diagnosis
Looking at the problem area on the foot is the best way to discover a bunion. If it has the shape characteristic of a bunion, this is the first hint of a problem. The doctor may also look at the shape of your leg, ankle, and foot while you are standing, and check the range of motion of your toe and joints by asking you to move your toes in different directions A closer examination with weight-bearing X-rays helps your doctor examine the actual bone structure at the joint and see how severe the problem is. A doctor may ask about the types of shoes you wear, sports or activities (e.g., ballet) you participate in, and whether or not you have had a recent injury. This information will help determine your treatment.

Non Surgical Treatment
Wearing the right shoes, using shoe inserts (orthoses) and padding, and taking painkillers can all help to ease your symptoms of a bunion. However, these treatments can?t cure a bunion or stop it getting worse. If you have severe pain or discomfort from a bunion, you may be advised to have an operation to correct it. One of the most important things you can do is to wear the right footwear. You should try to wear flat, wide-fitting shoes with laces or an adjustable strap that fits you properly. You may also want to place a bunion pad over your bunion to give it some protection from the pressure of your shoes. You can usually buy these pads from a pharmacy, or get them from your podiatrist or chiropodist. He or she may also recommend a shoe insert, which can be moulded specifically to your foot. Shoe inserts aim to reduce the pain of your bunion by improving how you walk. You can take over-the-counter painkillers, such as paracetamol or ibuprofen, to help relieve the pain and inflammation of your bunion. Always follow the instructions in the patient information leaflet that comes with your medicine. Medicines give temporary relief but they won?t be able to cure your bunion or prevent it from getting worse. If you have a bunion as a result of underlying arthritis, your doctor may prescribe specific medicines to treat this.


Surgical Treatment
There are a range of different surgeries that can be performed with the goal of realigning the joint and relieving pain ranging from shaving off part of the bone to cutting and realigning the bone with pins and screws. Depending on the surgery full recovery can take months and require you to stay off the foot. One new type of surgery, called a tightrope, involves attaching a wire to the bone to try and pull it back into alignment, but be wary of this procedure because there have not been any long-term outcome studies yet.

Prevention
Choosing footwear that fits correctly, especially low heeled shoes with plenty of space for the toes, is one of the main ways that bunions can be prevented. Always stand when trying on shoes to ensure they still fit comfortably when the foot expands under your body weight. Try shoes on both feet, and select the size appropriate for your larger foot. Use an extra insole if one shoe is looser than the other. Do not cramp the larger foot. People prone to flat-footedness should consider the use of arch supports, orthotic shoe inserts or special orthotic shoes to prevent or delay the development of bunions.